A landscaping plan is a large project that requires a lot of preparation with a good landscape professional. Your landscaper will advise and guide you to help make the best decisions for your yard according to your tastes and the space available. After completing your project, there may be leftover pieces that you can use to maximize your space and add a personalized touch to make your yard that much more useful. Find out how to maximize the use of the leftover materials in your landscaping!
A personalized fire pit
Do you have any remaining slabs from your pool coping or patio? Why not design a fire pit! It only takes 4 slabs for your landscaper to create the look. Products such as the Proma Coping, the Proma XL 16 by 32 inch slab or the Viva Grande slab are a suitable choice for this type of project. Add a burner and an aluminum basin to make it functional and you're done! Let your landscaper know so they can purchase the items needed for the fire pit.
Marilou personalized her yard in the same way! Her landscaper had the wonderful idea of making a small fire pit out of the leftover slabs from her pool coping, in the limited space available. See the project in her Instagram post below!
If you prefer a pre-assembled fire pit, several options are also available to you in our collection. Discover our firepit here!
Flamko firepit - Ash Charcoal & Midnight Black
An inviting garden path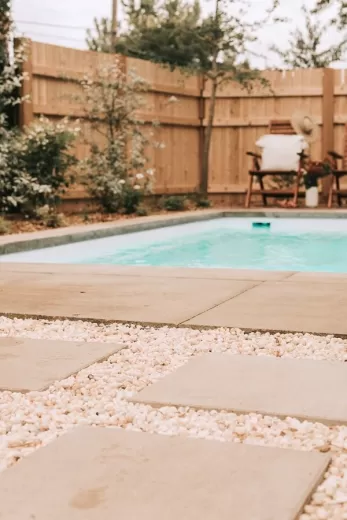 Proma slab - Oka Beige
A classic way to use the remaining pavers is to make a pathway into the garden. This addition makes it possible to link two distinct spaces in an elegant and refined way. You can also, add a walkway to the side of your house for an inviting look! This concept can be executed with virtually any product in Rinox's paver collection.Pro tip: insert river pebbles or synthetic turf for a stunning and professional result.A charming tailor-made garden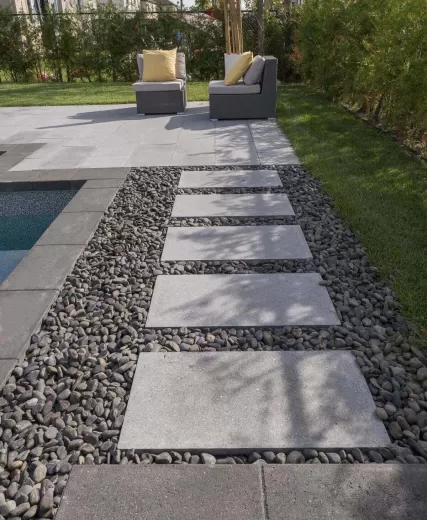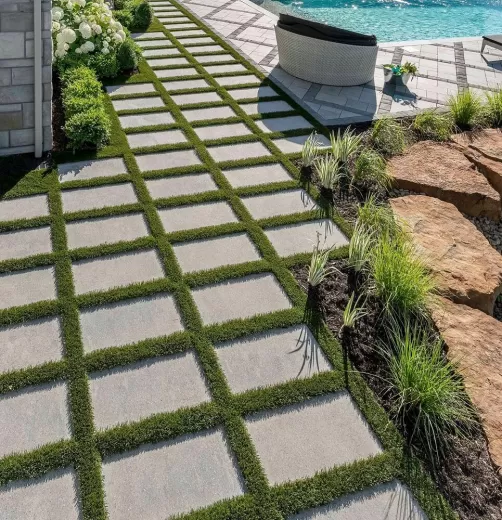 A charming tailor-made garden
Friendliness and well-being are more than ever at the heart of all homeowners' projects. Having a backyard allows not only a private outdoor space, but also the ability to maintain a garden! Flowers, plants and vegetables can be grown there and the whole family can take care of them. Enjoy homemade meals made with fresh vegetables from your garden, what could be better!

The garden area is an interesting addition that can also be made with the unused slabs from your landscaping project. Analyze the possibility to design your personalized garden surrounded by modern slabs with your landscaper!

To conclude, a landscaping project must be carried out by a landscaper with whom there is an open communication, before and during the project. Once you have decided on the main areas of your layout and see the project come together, the possibilities to maximize your space will become more apparent to your landscaper. Make sure you remain in contact! Are you looking for a landscaper offering Rinox products?

Consult our list of distributors for your project!

Not sure where to start when looking for a landscaper? Check out our blog on how to choose the right landscaper for your project.