Bringing together several local companies, the Rinox Group offers prestigious materials and services for the exterior and interior of your home. The ultimate goal is to create exceptional beauty spaces for your living spaces. Comprehensive services allowing you to realize your dream projects with durable, superior quality products. Rialux is the newest division which has been added to the group by offering high quality aluminum siding. In addition to an incomparable fast installation, it provides a modern and industrial look. We are happy to announce a new division of the Rinox Group; Rialux.
A durable and advantageous product

Aluminum siding has long been an essential material in architectural design. It reinvents itself by offering an effect resembling the appearance of wood grain. This more natural look is increasingly sought after in residential and commercial real estate projects. Due to its great popularity, the Rinox Group welcomes into its group the Rialux division offering high-end aluminum siding.

Its wood-effect appearance, very light weight and ease of installation are the main advantages of this product line made entirely in Quebec. With these aluminum panels that won't rust, you get unbeatable durability for your commercial or residential project. Contrary to what is offered on the market, Rialux panels install much faster due to their very light weight, even with a single installer.
A perfect mix

Rialux panels can go perfectly with every type of siding materials and have been created to go with the Rinox Masonry collection. All styles combined, Rialux panels will add a modern touch and an interesting smooth texture to the stone siding selected for your project.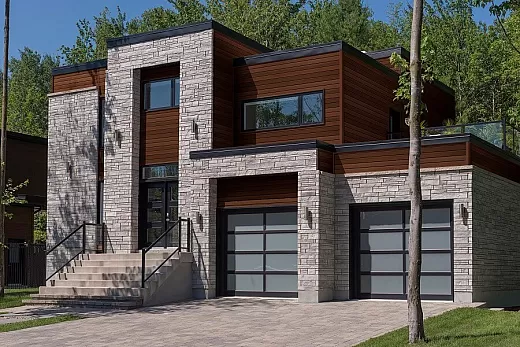 Rialux Timberland - Bark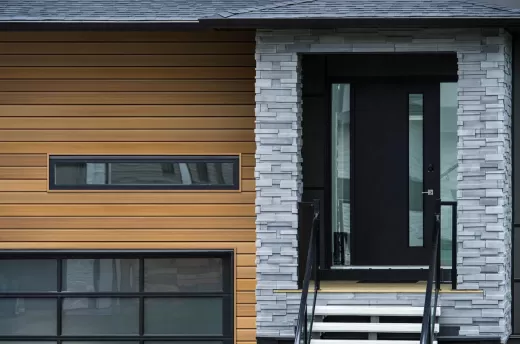 Rialux Timberland - Sienna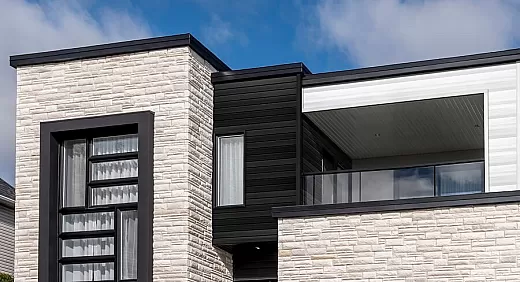 Rialux Timberland - Ebony/Ébène
These projects present the versatility of Rialux panels that can be mixed with every style of stones and bricks. Many colors are available in the two collections Timberland and Tiago. From a pure white to a warm brown, you will find the perfect color for your house.
The Rinox Group is proud to offer this new division to its loyal customers wishing to stand out in the construction industry. Entirely made of aluminum, the new division of the Rinox Group; Rialux panels are versatile, durable and trendy. Also, they ensure the creation of a unique project using locally manufactured products. Discover the Rinox Group and its divisions for a complete residential project.